Do NOT ride in this bike lane, you WILL get hurt, and possibly killed.
By
adriel
• Aug 6th, 2008 • Category:
Bike Tips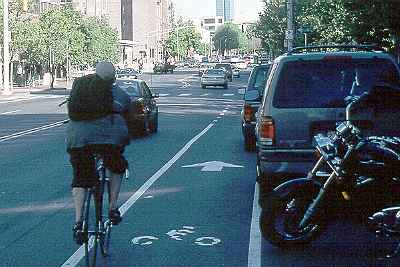 Please stop blaming the cars opening their doors, the fault is with the city. They say they want to increase biking, but it is really just a sneaky plot to kill them. (I'm kidding, I think they are doing it out of ignorance, this is why people who don't ride bikes should never be allowed to design a bike lane).
And I bet a cyclist riding in the middle of the adjacent vehicle lane (thats where you can find me) would get yelled at for not knowing his place.